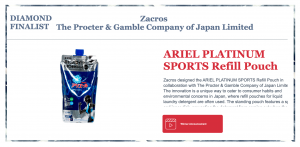 ZACROS has been a liquid packaging leader for many years and has taken flexible liquid packaging to the next level with innovative fitments. ZACROS has been awarded the Diamond Finalist award by partnering with P&G Japan in the 2020 Packaging Innovation Awards by Dow for the innovative fitment solution. This new liquid packaging was developed to provide a solution for consumers' environmental concerns, and the package has unique fitments that enhance the user experience. The refill pouch spout has an inner lid that fits with the bottle so that liquid in the pouch will not come out even if you turn it upside down. Once you press the spout down on the bottle (connecting), the liquid starts to flow. The fitment also has check valve technology (for liquid and air), which reduces the refill time.
Different sustainability approach for liquid packaging
Many companies focus on PCR and recyclability, but ZACROS has shown a different way to improve sustainability. The innovative fitments increase the usability and performance, helping end-users convert from a bottle to a flexible pouch. The flexible pouch requires less material usage, and it is an efficient format during storage and transportation compared to the rigid bottle. By reusing the bottle, we can reduce the overall environmental impacts.
What's next for ZACROS innovative liquid packaging
ZACROS continues creating new innovative fitments that help to promote flexible packaging, including FPS-03, which is based on this recognized pouch. We are also developing fitments with different concepts such as flow control (FPS-05) and automatic stop function (FPS-04). ZACROS works together with customers and brands to develop products promoting sustainability. Where there is ZACROS, there is a way SM.
About the Packaging Innovation Awards by Dow
The Packaging Innovation Awards by Dow represent the most innovative packaging concepts from personal care to health and hygiene to food and beverage and industrial categories. In 2020, there were more than 175 entries for this award from companies around the globe.
The Packaging Innovation Awards hosted by Dow is now in its 32nd year and is the industry's longest-running, independently judged packaging awards program. The judging panel consists of professionals worldwide in various fields, including design, engineering, retail, converting, and academia.
ZACROS has been in the flexible liquid packaging market for over 50 years. We have experience and knowledge. We think beyond the packaging with our innovations. Contact us to learn more.