ZACROS focuses on consumer experiences and usability in creating technologies for flexible packaging. ZACROS takes feedback from customers and end-users and finds solutions to the problems with our innovation. We are continuously searching for new technologies that shape a more comfortable society together with customers. We keep improving technologies to the next level.
User-Friendly Technology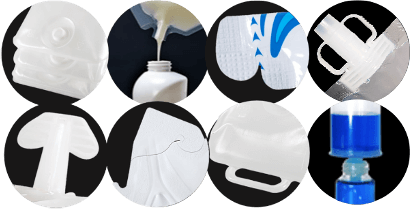 ZACROS offers unique technologies that improve performance and user experiences. We reinvent flexible packaging from the consumer point of view.
Laser cutting for easy tear
Perforated tear way
Anti-slip surface
Easy break twist cap
Collapsible design for ease of transportation
Integrated handle options
Easy pour fitments
Integrated straw fitment
FPS fitments
Leak-proof technology
One of the biggest challenges of a liquid package is leakage. ZACROS has produced over 8 billion flexible pouches since we started manufacturing in the 1990s. We developed our unique insertion technology to minimize leakage issues. We are confident that our quality and our support team can help you find the right package.
Film Technology - NI Series
The NI (non-interacting) film is a low-odor and non-adsorbing material perfect for pharmaceuticals and cosmetics that include low active ingredients. With the conventional film, the content liquid's active ingredient is adsorbed on the packaging film over time. When the customer uses the product, the active ingredient is decreased, reducing the expected effect of the product.
The NI film also has excellent odor-reducing properties, enabling its use for products with subtle fragrances, products that emphasize fragrance, and other products that could not previously be pouched due to issues with odors from plastic.