In recent years, the word "sustainable" has become popular, and environmental measures are now recognized as opportunities and risks for corporate management beyond the framework of ESG. Flexible packaging has gain popularity due to its low environmental impact. ZACROS recently introduced monomaterial packaging series called MONOSOLUTIONS™. The MONOSOLUTIONS™ series product line includes sachet, Flowpack, spout pouch, and CUBITAINER®. The Flowpack and spout pouch are the newest additions to this series, and the expansion of the monomaterial products line will support the growing demand for recyclable flexible packaging.

What is MONOSOLUTIONS™ – Sustainable monomaterial flexible packaging series?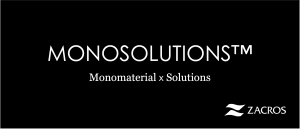 MONOSOLUTIONS™ is a ZACROS original brand name for monomaterial flexible packaging. One of our monomaterial legacy products, CUBITAINER®, has been in the market for over 60 years. ZACROS added the newest monomaterial flexible pouches to the MONOSOLUTIONS™ series this year to provide a wide range of monomaterial product options for more comprehensive applications. ZACROS has been manufacturing flexible pouches since 1997. However, they were traditional laminated pouches. Even though traditional laminated flexible pouches reduce environmental impact significantly compared to rigid packaging, they were difficult to recycle due to their material structures. The traditional laminated flexible pouch is made by laminating films of different materials. Therefore, it was difficult to separate each layer, and its use as a recycled material was limited. To solve this problem, ZACROS developed flexible pouches with a single material (monomaterial). We started mass production of the latest MONOSOLUTIONS™ series Flowpack in August 2021.
Benefits of MONOSOLUTIONS™
Easily recyclable flexible packaging is vital for circulating used plastic as resources without turning them into waste. In addition, as resource circulates in the packaging manufacturing process, it will be possible to reduce the amount of virgin resin used.
Future development
ZACROS will continue developing more MONOSOLUTIONS™ products for a wide range of applications to optimize flexible packaging sustainability. We are an expert in customizing liquid flexible packaging. ZACROS offers various sustainable liquid packaging products for any level of sustainability needs. Contact us for more information about our capabilities.