An innovative sustainable liquid flexible packaging solution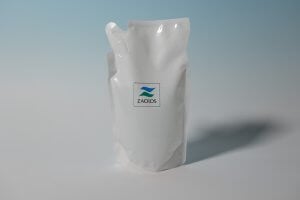 ZACROS AMERICA, INC., has been notified by PACK EXPO that its latest mono-material flexible pouch is a finalist in the 2021 Pack Expo Technology Excellence Awards Personal Care/Pharma category. The competition recognizes the newest innovative technology that has not previously been shown at a PACK EXPO.
Monomaterial Flowpack Flexible Pouch
ZACROS mono-material Flowpack is a fully recyclable spoutless liquid flexible pouch. And by eliminating the spout, this Flowpack pouch reduces overall material consumption, resulting in more eco-friendly packaging while maintaining usability. "Our entire team was very excited to be nominated as a finalist for our sustainable liquid flexible pouch innovation. Liquid packaging has its unique challenges. We have been working on developing this mono-material technology for the last few years. We believe that our extensive experience in liquid packaging drove the success of this sustainable packaging," said John Patterson, Business Development Manager.
"Our aim is that these awards drive the industry to keep innovating to meet the ever-growing needs of consumer-packaged goods companies," says Laura Thompson, vice president, trade shows, PMMI. "We are excited to see all of the new technology at this year's show and find out which company garners the most votes to win each category."
About PACK EXPO
PACK EXPO Las Vegas is the only show this year covering the entire packaging and processing industry. More than 1,500 exhibitors will showcase the latest new materials, technologies and solutions to address the packaging and processing needs of over 20,000 attendees from 40-plus vertical markets. With multiple free educational platforms and countless networking opportunities, the event will provide endless prospects for exchanging ideas and professional growth.
PACK EXPO enlisted top professionals to narrow submissions down to three finalists per category: food and beverage, general packaging, general processing and personal care and pharmacy. The vote totals during the show determine the winner of the awards. Voting is open to all attendees and will be accessible three ways: online, onsite and via the mobile app, beginning Monday, Sept. 27 at 9:00 a.m. through noon on Tuesday, Sept. 28.
About ZACROS
ZACROS is a flexible packaging manufacturer focusing on sustainability with specialties in liquid packaging. ZACROS provides monolayer and multilayer packaging products, including flexible pouch, CUBITAINER®, fitment, and medical packaging. With over 50 years of liquid package experience, ZACROS has the knowledge to help find the right flexible package. ZACROS reinvents packages using unique technologies to reduce plastic use and overall carbon footprint. ZACROS is continuously searching for new ways to improve sustainability. ZACROS has a wide range of flexibility in customizing monolayer and multilayer packaging to meet customer's sustainability goals.
With over 30 years of refill package experience, ZACROS has the knowledge to help you find the right flexible refill package. ZACROS offers a variety of customized, flexible packaging options. Contact us for more information about our capabilities.