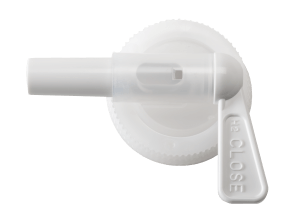 ZACROS now offers a convenient dispensing tap with a translucent body.
The tap makes it easy to dispense and control. This dispensing tap is for all sizes CUBITAINER® with a 38mm neck finish.
To learn more about product offerings, or contact us today.
About ZACROS
ZACROS, founded in 1914, has continuously developed and manufactured value-added materials and packaging in various industries, including daily commodities, pharmaceutical & medical, electronics, and construction. ZACROS focuses on providing solutions with proprietary technologies that help achieve a sustainable society. Refill pouch, non-interactive flexible IV bag, biomedical culture bag, and polarizer protective film are some of the leading products. ZACROS has expanded global locations to 6 countries and 38 locations serving customers worldwide.