A flexible refill package is getting more attention since the COVID-19 changed the consumers purchasing behavior significantly. As more consumers purchase products online, this might be a good time for you to consider switching your packaging to a flexible refill packaging. The refill package is not only for soap or lotion but for various food and non-food products.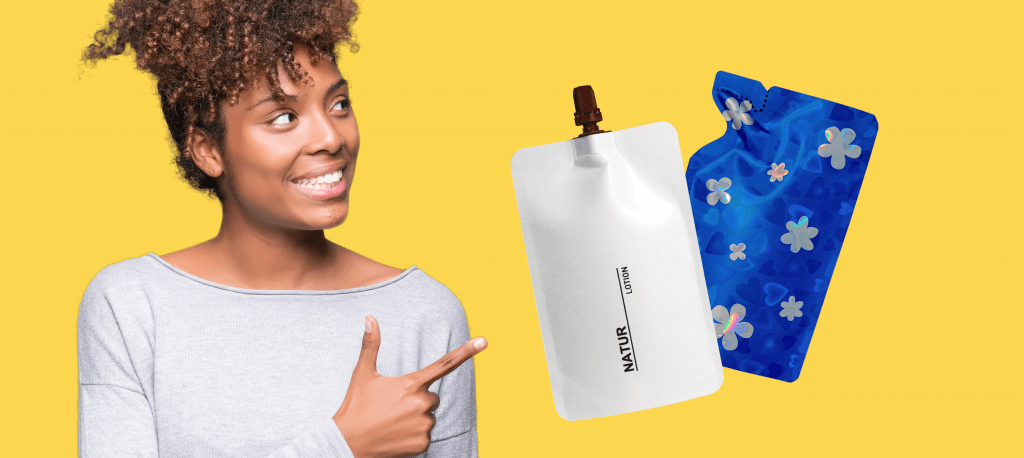 Is a refill package the right solution for you?
These questions will help you identify whether a refill package is a good fit for your products.
Is e-commerce channel essential for your business?

Do you pay more for damaged return products?
Are you looking for a lower packaging cost?
Are you looking for lowering your transportation cost?
Is sustainability important to you and your customers?
Are you looking for a unique design?
Are millennials your target audience?
If your answer is Yes to any of these questions, a refill package is a suitable option for you. There are four advantages of using a refill package.
1. Superior sustainability benefits
A flexible refill package uses fewer materials than a rigid package. A refill package can increase your brand awareness as eco-friendliness became essential to many of us. Besides, according to the survey, 1 in 3 consumers prefers eco-friendly products. A refill package creates a greener product option for eco-conscious consumers. Some say that a flexible package is not the best sustainable solution due to its recyclability hurdle. Yet, the current recycling rate of plastic recyclable waste in the U.S. is only 30%. Even though a flexible refill package may not be ideal for recycling, it saves a significant amount of resources and prevents waste. Japan showed a great example of reducing plastic use by adopting a refill concept. If you are looking for an ultimate sustainable solution, there is good news. The more and more recyclable flexible package is coming out in the market. Whatever levels of sustainability requirement you have, a flexible refill package can help to reduce environmental impacts.
2. Reduction of overall costs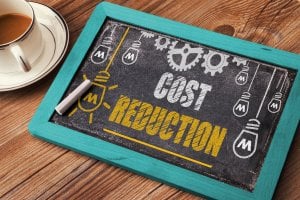 A flexible refill package uses 80-90% less material than a rigid package. That has a major influence on costs. Therefore, you get a cost reduction to produce a package and you are less impacted by a resin price increase. We have seen a continuous resin price increase in the last couple of months. The prices for some resins have surged over 10% in just three months. When you have a flexible package, it is less likely to see a significant increase in material costs. In addition to material costs, a flexible refill package is cost-efficient during transportation and storage. The flexible package is easily stackable. One truckload of flexible packages equals 15-25 truckloads of empty rigid packages. Distribution costs can get pricy. You want to optimize the space so that you can maximize logistic efficiency. A flexible package offers a high product-to-packaging ratio, which means shipping more products and shipping less packaging.
3. Flexible refill package as an e-commerce package
The e-commerce demands are quickly increasing. Rigid liquid bottles are likely to crack open, causing leakage. Usually, customers receive various items in the same boxes, which can cause damage to other products. That is why many brand owners are seeking alternative packaging to rigid bottles. The rigid bottles are durable; however, flexible packaging can better withstand rigorous distribution like e-commerce. Some brand owners choose a refill package for e-commerce while offering a rigid bottle in the traditional retail stores. Whatever the style you prefer, a flexible package is an e-commerce solution.
4. Flexible refill package benefit cycle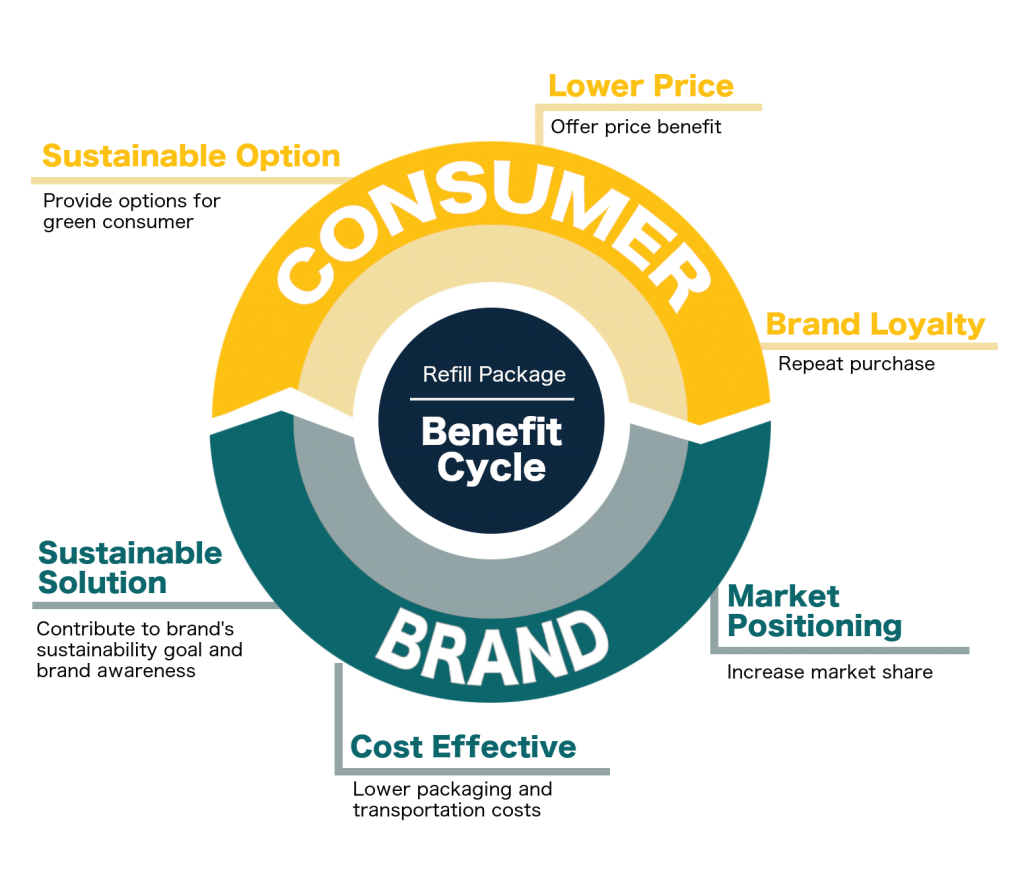 Refill package improves brand and consumer relationship. First, the brand has lower packaging costs with a flexible refill package, leading to lower acquisition costs for consumers. Especially for a millennium generation, pricing is important to make their purchasing decisions. In addition to lower costs, a flexible package is user-friendly. It has a higher evacuation rate than a rigid bottle. Have you ever had an experience trying to get the last bit of contents out of a bottle? Not easy. With the flexible package, it is easy to empty contents. Cost-effective and user-friendly products can drive a repeated purchase, which improves brand market positioning. Simultaneously, a flexible refill package contributes to the brand's sustainability goals, offering more eco-friendly product options for consumers, again improving brand market positioning. Brands and consumers get benefits from each other. So why not consider endless possibilities with a flexible refill package?
A flexible refill package is a great package option for all of us. Many consumers also start to realize the benefits of a refill package. It is convenient and better for the environment. ZACROS is an expert in customizing liquid flexible packaging. With over 30 years of refill package experience, ZACROS has the knowledge to help you find the right flexible refill package. ZACROS offers a variety of customized, flexible packaging options. Contact us for more information about our capabilities.