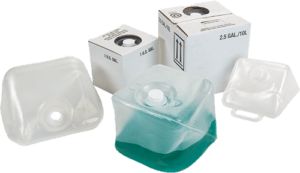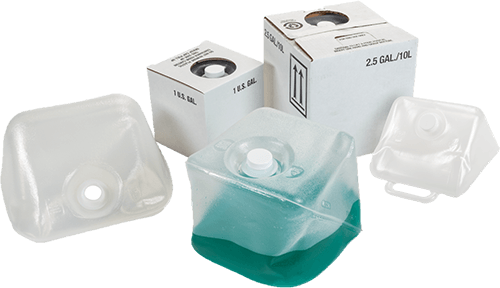 The CUBITAINER® filling is a simple process. Inflate, fill, and cap.
Inflation
Inflate the CUBITAINER® using low-pressure high-volume air.
The inflation process should take no more than 2 or 3 seconds.
Filling
The reversible neck design requires support during filling.
Capping
There are various filling machines available in the market, from semi-automated to fully automated machines. If you are thinking about converting from rigid packagings such as a tight head or an open pail to a CUBITAINER®, you can potentially modify your current filling machine. The videos below will give you some good examples of the CUBITAINER® filling process.
Fully automated filling process.
Automated filling process with the Data Scale filling machine. They modified an open pail filling system to be able to fill a CUBITAINER®.
Semi-automated filling process.
Contact us for more information about the filling process requirements and instructions.
The CUBITAINER® is a monomaterial eco-friendly alternative to the rigid packaging. ZACROS doesn't just offer flexible packaging. We provide custom solutions from materials through final packaging.