ZACROS, a global leader in flexible packaging for liquids, recently received the 2023 WorldStar award in the 'Packaging Materials and Components' category and the 2022 AsiaStar award in the 'ECO PACKAGE' category with a recycle-ready monomaterial MONOSOLUTIONS™ refill pouch.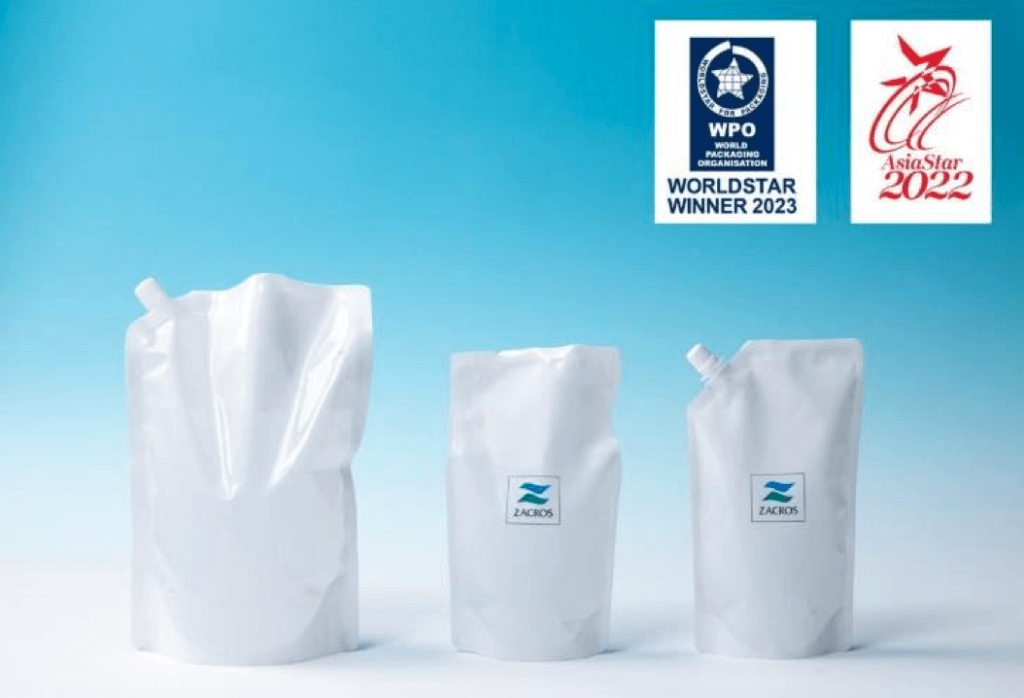 Because conventional refill pouches are typically made of multiple films laminating together, they were difficult to recycle. ZACROS developed and mass-produced this recycle-ready all-PE flexible pouch, which optimizes recyclability while providing barrier property that prevents deterioration and a strength that can withstand actual use.
ZACROS has been leading the market with a sustainable refill culture in Japan through manufacturing refill pouches. This award-winning "monomaterial refill pouch" is one of the MONOSOLUTIONS™ series, which promotes the transition to a circular economy.
As the global needs for sustainable packaging solutions grow, ZACROS expands its monomaterial refill pouch production to North America and Asia to support customers worldwide. ZACROS will continue to improve environmentally friendly packaging to the next level.
About MONOSOLUTIONS™
MONOSOLUTIONS™ is a ZACROS original brand name for monomaterial flexible packaging. By combining the words "MONO-MATERILA" and "SOLUTIONS", ZACROS aims to provide solutions to society with monomaterial packaging.
About ZACROS
ZACROS, founded in 1914, has continuously developed and manufactured value-added materials and packaging in various industries, including daily commodities, pharmaceutical & medical, electronics, and construction. ZACROS focuses on providing solutions with proprietary technologies that help achieve a sustainable society. Refill pouch, non-interactive flexible IV bag, biomedical culture bag, and polarizer protective film are some of the leading products. ZACROS has expanded global locations to 6 countries and 38 locations serving customers worldwide.
About WorldStar
The WorldStar Competition is one of the major events of the World Packaging Organisation (WPO) and is the pre-eminent global award in packaging. WorldStar illustrates the continual advancement of the state of packaging design and technology and creates a living standard of international packaging excellence from which others may learn. Each year WPO is recognizing the best of the best in packaging innovations from across the globe. The 2023 WorldStar competition received a record 488 entries from 41 countries, up from 440 competitors from 37 countries in 2022.
About AsiaStar
Accredited by the Asian Packaging Federation (APF), the AsiaStar Awards are given in recognition of excellence in packaging design in terms of innovation, functionality, graphical appeal, efficiency, and environment performance. AsiaStar entries must be a winner at a national packaging-related award in their country to qualify for entry.