The packaging industry has been transforming rapidly over the past couple of years. It is challenging to navigate what information is accurate about the type of packaging that is right for us. Is plastic truly beneficial in the long run? If you want to know which packaging is the most sustainable or best for our environment, you are in the right place!
Myth #1 – Plastic Packaging = Ocean Pollution. Actually, Littering is the Cause of Ocean Pollution.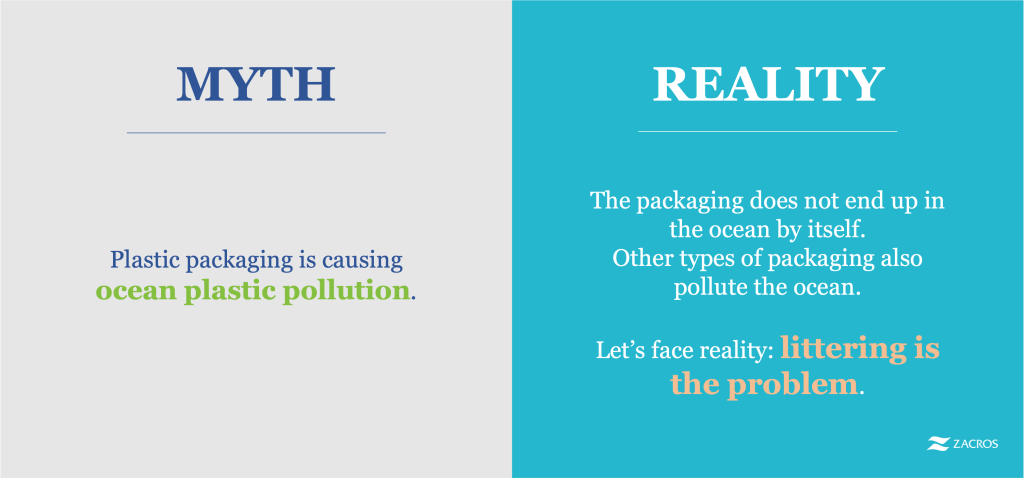 The lack of recycling infrastructure is also a huge contributor to the low recycling rate that we are currently experiencing. Currently, about 28 % of PET and HDPE bottles are recycled. 40% or more of these PET and HDPE bottles could be recycled within the existing US processing infrastructure with basic additional investments.
Americans Are Better at Recycling Than We're Led to Believe (plasticstoday.com)
Myth #2 – If plastic packaging is not recyclable, it is not eco-friendly. Actually, Even Recyclable Plastic Packaging Ends Up in Landfills.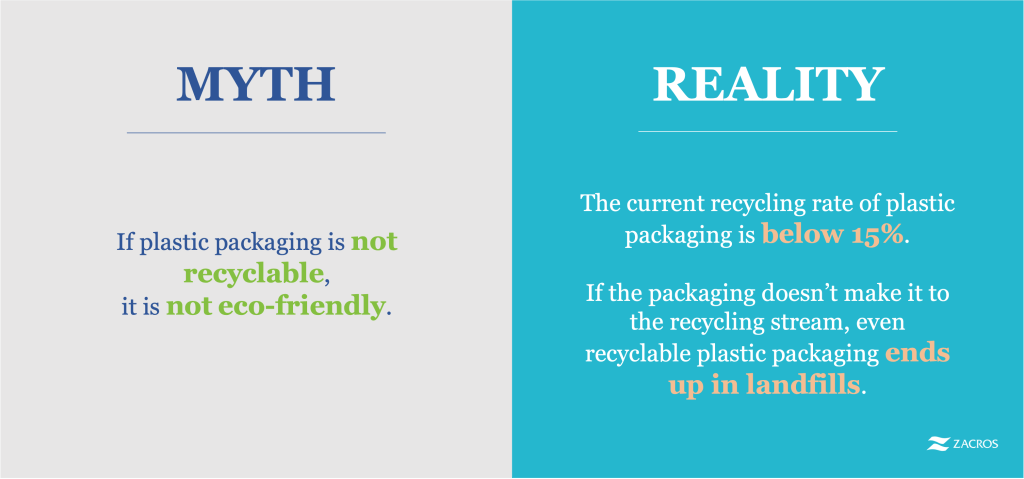 According to the United Nations Environmental Program (UNEP), about 80 percent of all litter in the ocean is made up of plastic pieces. Littering is the primary supplier to ocean plastic pollution, that is how most of the plastic ends up in our oceans. UNEP has expressed concerns with the growing rate of waste going into the ocean, such as bags, cups, straws, and plastic bottles, after a single use. By 2050, there will be more plastic in the oceans than marine life.
Curb Marine Pollution, Save the Ocean – THISDAYLIVE
Myth #3 – Refill Pouches are Plastic Packaging and are Not Sustainable. Actually, Refill Pouches Reduce Raw Material Usage by up to 90%.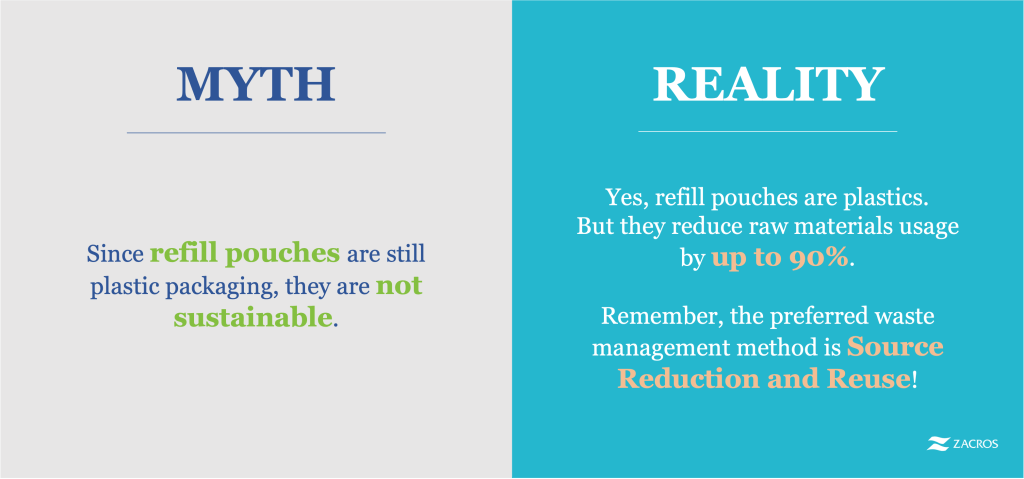 The Organization for Economic Cooperation and Development (OECD) explains that reducing plastic waste will require cooperation through innovation and efforts to improve waste management.
The EPA has developed the waste management hierarchy and non-hazardous materials in recognition that there is not a single waste management approach that is suitable for managing all materials and waste streams in all circumstances.
According to the EPA, the most favored method of waste management is surprisingly not recycling/composting but source reduction and reuse!
Source reduction may include:
Reusing/donating items,
Redesigning packaging,
Reducing toxicity, and
Buying in bulk.
Source reduction can:
Reduce pollution,
Conserve energy,
Save money for both businesses and consumers, and
Reduce greenhouse gas emissions that contribute to climate change.
Can the EPA strategically buy its way to waste reduction and increased recycling? | The Hill
Myth #4 – Glass is Better than Plastic Packaging. Actually, Plastics Have the Least Environmental Impact When You Look at the Whole Packaging Lifecycle.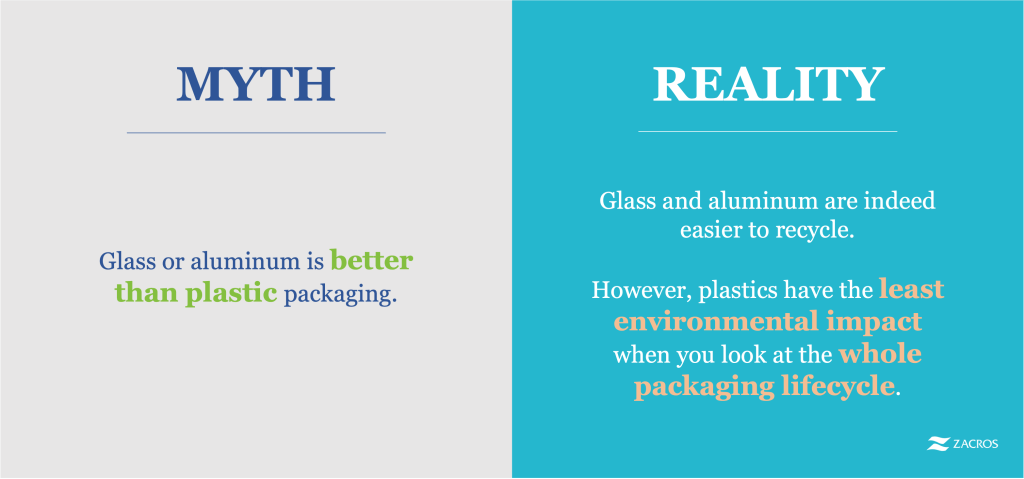 According to Keith Christman, Managing Director of Plastic Markets at ACC, explained "Plastics have an important role to play in delivering sustainable outcomes. By using fewer materials, plastics help reduce greenhouse gas emissions and waste generation, as well as save energy. And our industry is working further to realize plastics' sustainable benefits through our commitment to recycle or recover all plastic packaging by 2040."
Since plastic packaging uses far fewer materials, it is evident that it has the most negligible environmental impact on the environment. The sooner we all realize the positive effects of plastic packaging, the sooner we can improve our environment.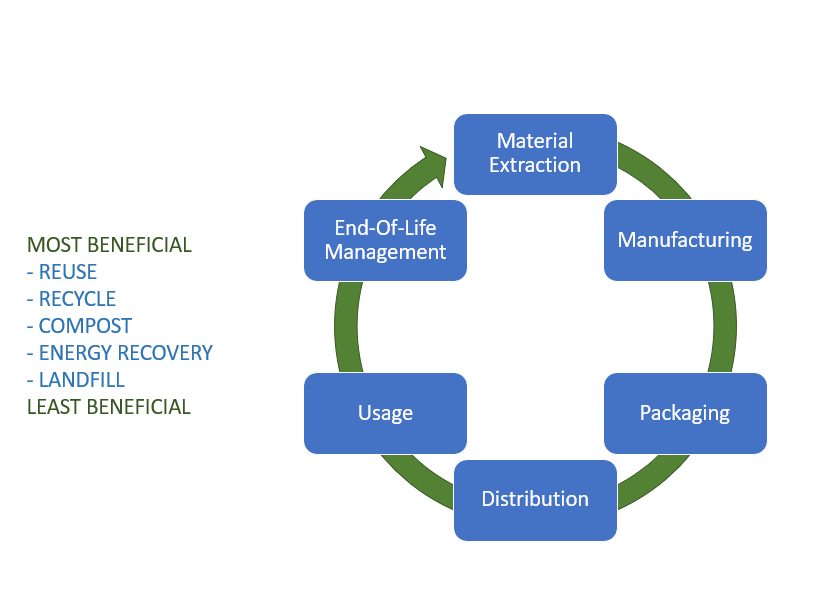 The life cycle assessments (LCAs) are scientific studies that assess the potential environmental impact of a product from its sourcing to its end-of-life process. Plastic allows industries to reach their environmental goals and reduce emissions.
Plastic more sustainable than paper, study shows (plasticstoday.com)
This Is Plastics: Life Cycle Assessments: Measuring Plastics' Benefits Through Sustainability
Myth #5 – Using Refill Pouches Will Not Impact Our Environment. Actually, it is Proven that Refill Pouches are Sustainable.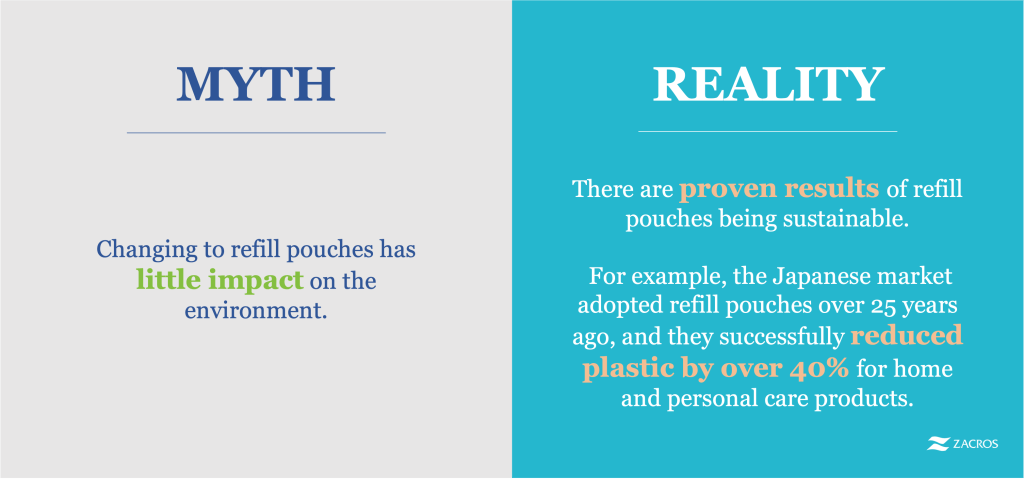 With this evidence that we have from the Japanese market, we can only assume that this would happen to the United States market as well. Refill pouches are the way of the future, as we can see from how sustainable they are.
Voluntary Reduction in Plastic Use: JSDA | Japan Soap and Detergent Association
Summary
I hope that after reading this you are able to understand more about the misconceptions of plastic packaging. Recycling is important but we should not forget how important reuse is as well. With so many countries receiving positive results from using refill pouches, I wonder how ready the United States is to begin frequently using refill pouches with certain products.
Refill Pouches
Are you interested in refill pouches? ZACROS has been manufacturing refill pouches for home and personal care products for over 25 years. ZACROS provides a wide range of refill pouches, from a spoutless laminated pouch to a monomaterial spout pouch. We assist with material selections and designs to filling assist. Contact us today to learn more about sustainable refill pouch options.