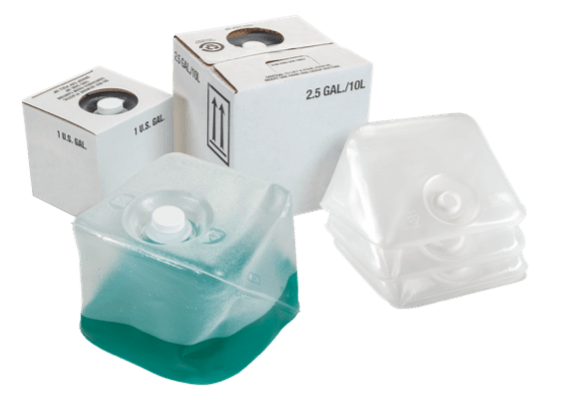 Monomaterial Liquid Container
CUBITAINER® is a sustainable liquid container with sizes varying from 1L to 20L. CUBITAINER® uses a single material, making it a perfect solution for sustainable packaging. Besides, unlike rigid liquid containers, CUBITAINER® can be deflated and stacked. As a result, it can minimize transportation and storage costs significantly. It is an excellent alternative to rigid liquid containers.
CUBITAINER® can be customized its treatments. In addition to treatments, branding with artworks on a carton box are available.
Product Features
CUBITAINER® is a recycle-ready rigid packaging alternative that can promote sustainability while reducing transportation and storage space and costs.
Monomaterial
Lightweight
Durable
Can be deflated and stacked
97-100% evacuation rate
Capable of shipping hazardous materials
FAQs
What are the sustainability benefits of CUBIATINER®?
CUBITAINER® offers great sustainability benefits compared to rigid packaging. It is crucial to consider the whole life cycle of the packaging when it comes down to sustainability.
Reduce Plastic Use

Changing from a rigid open pail container to CUBITAINER® can reduce plastic use by 80%.

Reduce Carbon Footprint

The stackable design gives a high product-to-packaging ratio to minimize dead space. The CUBITAINER® uses 7 times less space than a blow-molded container. That means CUBITAINER® requires only 1 truck instead of 7 trucks.

Recycle-Ready

CUBITAINER® is made from a single material, optimizing recyclability.
Is CUBITAINER® recyclable?
CUBITAINER® is made from a single material, making it recycle-ready packaging. ZACROS developed an internal process* to turn used CUBITAINER® into recycled CUBITAINER®, reducing overall raw material and CO2 emissions without compromising performance.
* ZACROS is currently working with customers to expand into large-scale production.
There are various ways to fill CUBITAINER®. Although ZACROS does not currently offer a filling service, we can help you find solutions. Find out more about CUBITAINER® filling.
Can I use CUBITAINER® for hazardous chemicals?
Assembled CUBIATINER® is DOT classified as a 4G Combination Package. It is capable of shipping hazardous materials from packaging group 2 up to a 1.5 Specific Gravity. The UN-marked cartons are available for most of the sizes. Contact us to find out the chemical compatibility of your products.
What is the difference between CUBITAINER® and Bag-in-Box?
CUBITAINER® and Bag-in-Box (BIB) share similar traits. However, CUBITAINER® and BIB have different properties and unique benefits.
CUBITAINER® does not require an outer carton, while BIB usually requires a box to support the inner bag.
BIB products are typically used for food and beverage applications. However, CUBITAINER® has a broader range of product applications, including industrial chemicals and reagents.
CUBITAINER® uses molding techniques to manufacture, while BIB is formed by laminating various film layers.