We are pleased to announce that Zacros America, Inc. is a certified testing laboratory by International Safe Transit Association (ISTA). In our Newark, Delaware facility, we can now perform tests to understand how well the package will protect the contents during distribution. In addition to testing, we can provide assessments for our customers to develop effective package design that optimizes resource usage.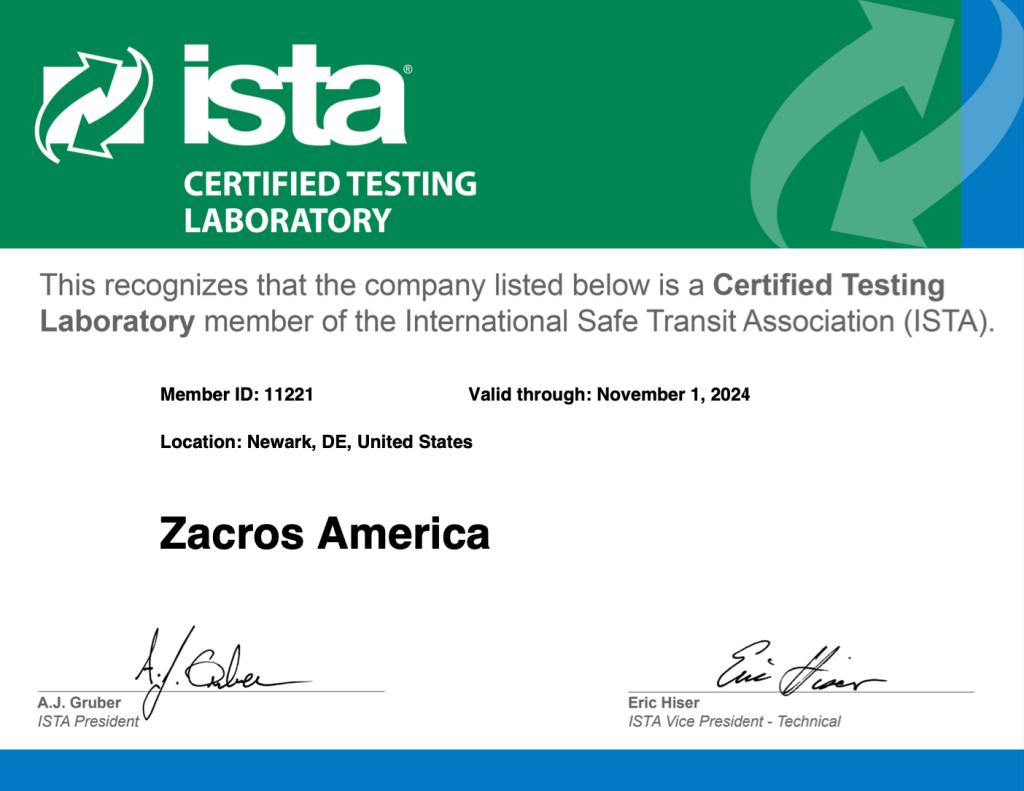 What is an ISTA laboratory?
ISTA stands for International Safe Transit Association, the most trusted and knowledgeable authority in package-performance testing to minimize product damage throughout the supply chain. ISTA certified labs have the proper equipment to perform pre-shipment testing according to the ISTA standards.
Reasons why you should test your packaging for ISTA?
First, larger retailers and carriers like Amazon often require ISTA certifications. Second, you can significantly reduce the number of damaged goods during distribution by properly packaging your products, which leads to many benefits to product manufacturers, including cost savings and greater customer satisfaction. The laboratory is set up to help to protect your products. Whether launching a new product or experiencing damaged goods, ZACROS is here to help. Contact us today to discuss ISTA testing or any ISTA-related topics.
About ZACROS
ZACROS, founded in 1914, has continuously developed and manufactured value-added materials and packaging in various industries, including daily commodities, pharmaceutical & medical, electronics, and construction. ZACROS focuses on providing solutions with proprietary technologies that help achieve a sustainable society. Refill pouch, non-interactive flexible IV bag, biomedical culture bag, and polarizer protective film are some of the leading products. ZACROS has expanded global locations to 6 countries and 38 locations serving customers worldwide.